x
Regular price

Sale price

€12,00
Looks real

Lasts for 2 weeks

Easy to apply
Description

Everink temporary tattoos give you an opportunity

1) feel fulfilled, increase your self-esteem and experiment with your appearance

2) express yourself and show your individuality

3) try a commitment-free tattoo
What is included in the kit?

A temporary tattoo
Special wet wipe to prepare the skin before application
Detailed instructions for applying a tattoo
Composition

We produce our tattoos from Jenipapo fruit extract, which grows in Brazil. All of our tattoos are made exclusively from natural materials and are confirmed by product safety tests.

We do not test our product on animals.
Size in cm: 1 x 2 cm
Add 3 tattoos to get 30% off 🎁
Add 4 tattoos to get 40% off 🎁
Add 5-7 tattoos to get 50% off 🎁
Add 6+ tattoos to get 60% off 🎁
Share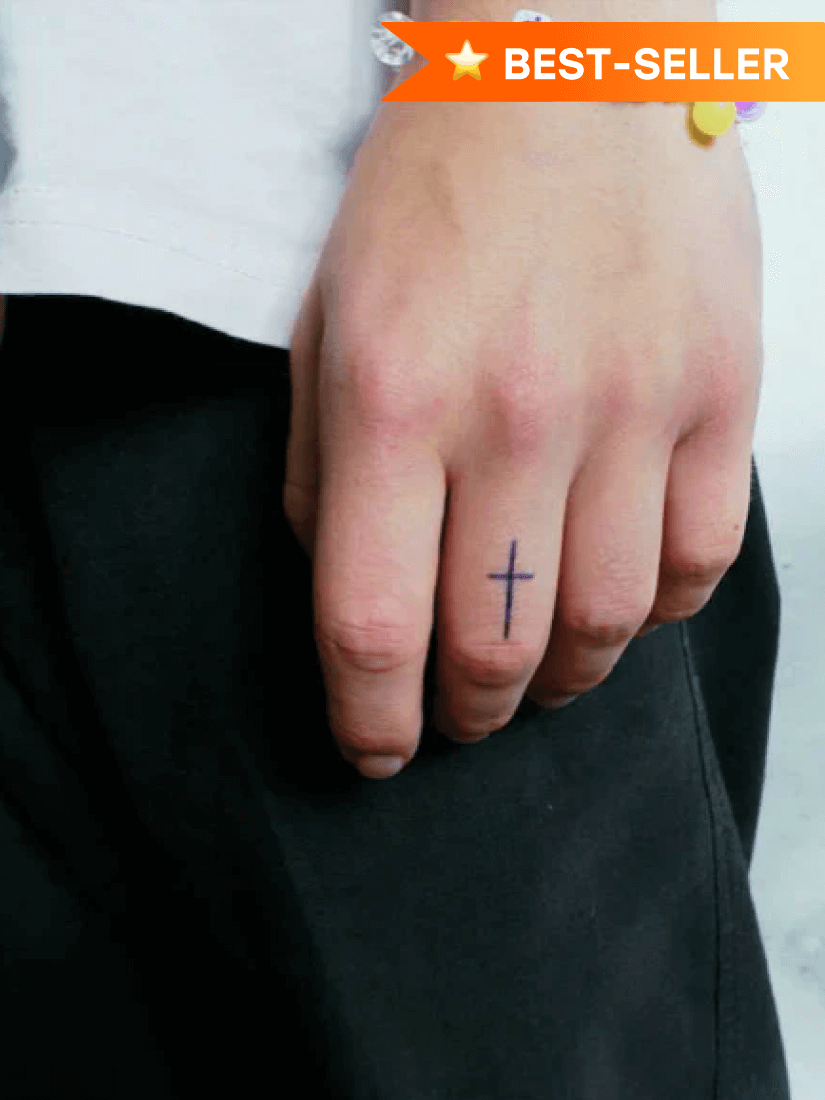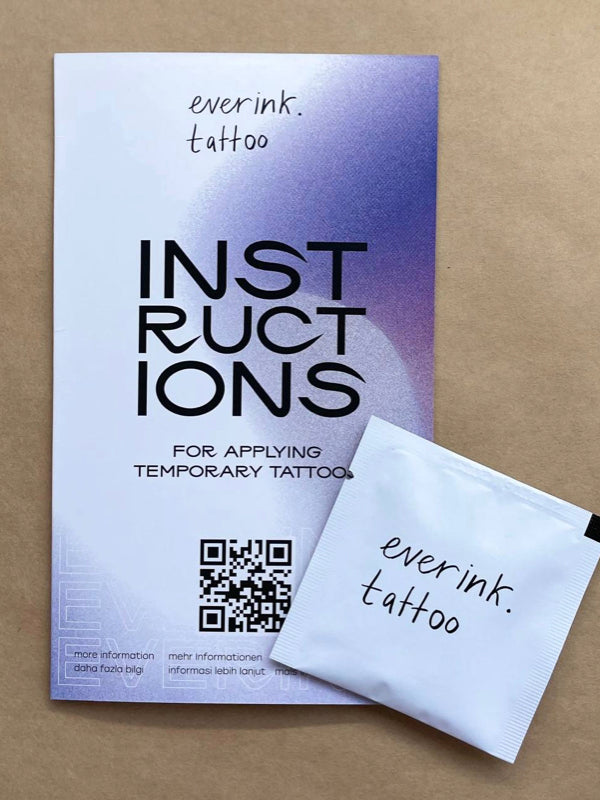 4000+ five star reviews
Patricia

This is fantastic, guys! I am a person who gets bored very quickly. I wasn't sure if I wanted to get a tattoo before, but now I have the opportunity to try! And it's so great! Because it really looks like a real tattoo! I'm 200% satisfied. Thank you for this opportunity!!!!!❤️

Elena

Excellent quality tattoos. It looks like the real thing! My friends actually believed that I had a perm :) I swam several times, but the tattoo did not wash off. Thank you very much!

Bruno

Thank you very much for the opportunity to make me feel what it's like to have a permanent tattoo, without getting it. I am very satisfied, I will definitely order more!

Maria

It's great that there is no film effect and extra shine, as with other temporary tattoos. I really liked your tattoos, I'm going to try to get more! And I'm already going to give it to a friend.

Guilherme

Thanks for the quality! :) I used to think about getting a real tattoo, but I was afraid that I would get bored and then have to remove it, and that's extra money and scars. I found your tattoos, I decided to take a risk and try something new 😛Now I can change and have different designs without worrying. All my friends and acquaintances think I got real tattoos, and that speaks of the quality!

Rayane

Looking forward to new options in the catalog! It looks very natural. I was very pleased!

Lorice

We were very surprised: the tattoo looks real 😍 We did it together with our daughter (16 years old), her father almost fainted when he saw it 😂 We will definitely order more often 👌🏻

Nara

Tattoos are really cool! I'll order more from you 👌🏻

Beatriz

The product is very interesting! It really helps to understand if you are ready for a tattoo

Camila

I really liked your tattoos, they last long and are very beautiful. I will definitely order more and more!

Amanda

I didn't expect such quality, it has lasted more than 2 weeks. I didn't regret buying 6 pieces at once.

Leticia

The tattoo really looks real! Thanks to it I realized that I definitely want to get a permanent tattoo.
FAQs
Why is Everink better than other temporary tattoos?

• Everink Tattoo dyes the top layer of your skin

• It lasts 2 weeks and fades as your skin regenerates

• Whereas other temporary tattoos sits on top of your skin, lasts 2-3 days, peels, flakes and can be washed off
Why is Everink better than permanent tattoos?

• Everink tattoo does not imply a lifelong commitment

• It is safe, painless and easy to apply
How does Everink work?

Unlike most temp tattoos, Everink dyes the top layer of your skin and doesn't just stick on top. Our tattoos are painless and easy to apply - there are only a few steps involved:

• Take the skin prep pad from the white package, wipe the application area well and let it dry (~20 seconds).

• Remove the transparent film with the tattoo from the backing paper and apply the tattoo to the skin with the sticky side. The bubbles need to be smoothed out.

• Hold the film for 1.5 hours. Take a rest so that the ink appears clearly. Avoid exertion so that excess sweat does not form under the film.

• Remove the film slowly and carefully. Do not touch a fresh tattoo for 30 minutes and do not wet the tattoo area for 4 hours. The tattoo will fully develop over 24 hours.
Are Everink tattoos safe?

Yes, our fruit ink has been tested for product safety to ensure it meets cosmetic regulatory requirements
Do you have a return policy?

Yes, we have a 100% money-back guarantee if you are not satisfied with the quality of the tattoos.
How do I order Everink tattoos?

• Select any tattoos from the catalog and add them to the cart

• Fill in your contact and shipping information on the checkout page

• Choose delivery method and payment option.
Where do you ship to?

• We ship tattoos all over the world

•Delivery to EU countries takes 2-5 days

• For a full list of countries, visit our Shipping Policy
How much does the delivery cost and how long does it take?

• The shipping is free on orders over €30. For other orders shipping price starts from €5.

• Delivery time depends on your location, you can see them here

• If your order is delayed, write to us and we'll resolve the situation quickly!
How can I track an order?

• Once you have placed your order, you will receive a detailed email

• It will contain a number by which you can track your order on the website of the transport company